Watermark Condos coming soon to Oakville Harbour | Downtown Oakville
80 Navy Street | Downtown Oakville | Olde Oakville
'Watermark Condos'
Luxury Residences at Oakville Harbour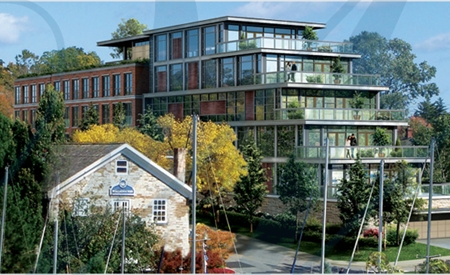 Click here to Register for Watermark Condos VIP Preview
Watermark Condos:
13 Condo Units Planned | Pre-Construction
Selling Price Range:
 Coming soon
Condo Fee:
 Coming Soon
Condo Fee Includes:
 Coming Soon
Bedrooms:
 Coming Soon
Condo Sizes:
 2000 sq.ft – 5000+ sq.ft.
Parking: 
Underground, covered
Condo Amenities:
 Coming soon
__________________________________________________________
Watermark Condos Review:  Watermark Condos will be built in Downtown Oakville at 80 Navy Street on the east bank of the Sixteen Mile Creek overlooking the Oakville Harbour.
Preliminary plans for Watermark Condos suggest that it will be a terraced five-storey building with three stories of frontage at Navy Street stepping down to five stories on Water St with the grade.  Watermark Condos will be a luxury, boutique condominium that will offer Oakville condominium buyers unique luxury living with a downtown Oakville address on the Oakville Waterfront.
Watermark Condominum was designed by local, Oakville architect firm Gren Weis Architects and Associates, Watermark's rendering shows this boutique condominium as a sleek, contemporary condo building that will combine a common steel and glass look, with unique red and white brickwork drawing from the heritage feel of many of the neighbouring homes and buildings in downtown Oakville.
Watermark Condos has joined Oakville's New Condo line up of Rain Condos, OpArt Lofts, The Shores, Windermere Manor, Wyndham Place, Edgemere Estate Condominiums, Bluwater Condos, Emporium Condos and Balmoral Condominium.
Stay tuned for more in,formation on Watermark Condos in Downtown Oakville's Oakville Harbour…  
I will be posting and updating the condo information once I get my hands on preliminary pricing and condo floorplans and layouts. In the meantime here's some history on the condo site known as "Shelley's Site":
The "Shelley's" Site – Part of Oakville's Heritage…  This site was originally the home of Jeremiah Hagaman (1818-84) who built the Oakville Carriage Factory on Navy Street between Robinson and William, on the hill that slopes down to Water Street. In Hazel C. Mathews' book, "Oakville and the Sixteen", she writes, that he was a carriage maker of distinction and took three prizes at the Agricultural Exhibition in Toronto in 1856 for the best horse pleasure sleigh and the best two horse waggons. The following year Hagaman enlarged his factory announcing that he was "prepared to supply any amount of carriages, waggons, sleighs etc… turning them out with unequal style, combining strength and beauty". 
By 1870 Hagaman had a business that required the services of 12 men and was valued at $7500. He was also one of Oakville's first Councillors, representing Ward One from 1859 until at least 1862. In recent years, this property has housed a garden centre, ice cream shop and most recently the sales office for Daniel's 111 Forsythe Condominium.