Oakville Condos | Nottinghill Gate Condos – 1499 Nottinghill Gate, Oakville
1499 Nottinghill Gate - North Oakville | Glen Abbey
'Nottinghill Gate'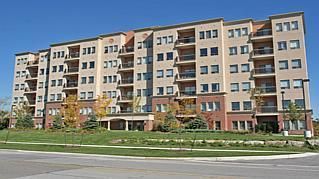 50 Units  |  Built 2004  |
Google Map
| | |
| --- | --- |
| Selling Price Range: | $270,000 – $350,000 |
| Condo Fee: | $200 – $290/month |
| Condo Fee Includes: | Water, building insurance, parking & common element maintenance |
| Bedrooms: | 2 & 3 bedroom condos |
| Condo Sizes: | 1290 sq.ft. – 2600 sq.ft. |
| Parking: | Underground, visitor parking – surface |
| Condo Amenities: | Fitness room, party room, hobby/workshop room |
Nottinghill Gate Condos are located on the east side of Nottinghill Gate in Oakville's Glen Abbey community.
Condos currently available for sale at Nottinghill Gate Condos: 1
(updated February 22, 2011)
Sign up for 24/7 email alerts for condo apartment listings at 1499 Nottinghill Gate, Oakville


__________________________________________________________


Comments:  

The

Nottinghill Gate Condominium is located on the southeast corner of Upper Middle Road and Nottinghill Gate in North Oakville's Glen Abbey community.  This six-storey, mid-rise condo building has just 50 condo suites and backs onto the Glen Oak Creek Trail, part of Glen Abbey's network of walking and biking trails.
The condos in Nottinghill Gate Condominium complex are mostly 2 to 3 bedrooms condo apartments and range in size from roughly 1290 square feet to over 2600 square feet for one of the building's penthouse condos. Most of the condo units in the Nottinghill Gate condominium complex have upgraded finishings like upgraded cabinets, granite countertops, hardwood floors and upgraded tiles.  This condo building in Oakville offers spacious condo suite layouts with good value for the dollar.
Nottinghill Gate Condominium building is well located with excellent access to Oakville's public transportation system as well as good access to the QEW and 407 highway.  There are lots of shopping amenities nearby including Sobeys, TD Bank, CIBC, Scotia Bank, Rogers Video, Tim Hortons, McDonalds and the other shops at Abbey Plaza. The Glen Abbey Recreation Centre and Arenas, Blockbuster Video, Monastery Bakery are all within walking distance as well.
# of condos sold at Nottinghill Gate Condos in 2010:

3 condos sold in 2010
Comments:
2010 Condo Sales Stats for 1499 Nottinghill Gate, Oakville:
#of
condos
sold
Average
Sold $
Median
Sold $
Mode
Sold $
Low
Selling $
High
Selling
$
List Price
3
$396,216
$404,747
n / a
$364,900
$419,000
Original Price
1
$364,900
$364,900
$364,900
$364,900
$364,900
Sold Price
3
$385,667
$400,000
n / a
$350,000
$407,000
% List
1
96
96
96
96
96
Taxes
3
$3,130
$3,339
$3,339
$2,712.31
$3,339
Bedrooms
3
2
2
2
2
2
Bathrooms
3
2
2
2
2
2
Days On Market
3
32
31
n / a
20
45
(Calculations are performed excluding zero-values)
2009 Condo Sales Stats for 1499 Nottinghill Gate, Oakville:
Count
Mean
(Average)
Median
Mode
Low
High
Condo List Price
4
$554,800
$489,900
$489,900
$359,900
$879,500
Original Price
1
$489,900
$489,900
$489,900
$489,900
$489,900
Condo Sold Price
4
$534,500
$468,000
$468,000
$352,000
$850,000
% of List Price
1
96
96
96
96
96
Property Taxes
4
$4,418
$3,916
$3,916
$3,039
$6,800
Bedrooms
4
2.8
3
3
2
3
Bathrooms
4
2.8
3
3
2
3
Days On Market
4
50
48.5
n / a
18
85