Oakville Condo Guide | Condos for sale in Oakville
Oakville Condo Guide: Condos for sale in Oakville
(Keep checking back we're updating….  last update February 2, 2013)
Oakville Lakefront & Harbour Luxury Condos:

Downtown Oakville Condominiums:

Central Oakville Condos:
Oakville Glen Abbey Condos:
Oakville Falgarwood Condos: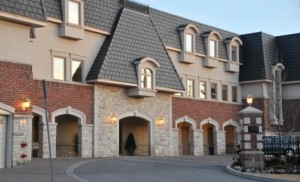 1008 – 1066 Falgarwood
The Sovereign I – II – 1230 & 1240 Marlborough Court
The Villas – 1300 Marlborough Court
North Morrison House – 390 Upper Middle Road East
North Oakville & Oak Park Condos:
What is a Condominium?
A condominium is a form of home ownership in which individual units of a larger complex are sold, not rented. These units may be renovated or luxury apartments, townhouses, commercial, retail stores, industrial warehouses or even detached homes.  Contrary to popular belief, the word 'condominium' does not apply to the type of unit itself, but rather the legal ownership arrangement.
When you purchase a suite or unit in a condominium,  technically you own everything from their walls inward.  All of the individual condominium owners also have shared rights and responsibilities to the common element areas, such as the elevators, hallways, pools, amenities and club houses.  Maintenance of these common areas becomes the responsibility of a condominium association.  Every condo owner owns a share of interest in the condominium association, plus an obligation to pay monthly dues or special assessment fees for larger maintenance problems.
Buying a condominium is not the best option for every potential homeowner.  Condo living is very much a lifestyle and as with any lifestyle, there are positives and negatives.  For example, as a condo owner, you do not always have private outdoor space.  You may notice a lack of privacy in the common areas such as the pool, tennis court(s), patios, gardens – these are shared with every other condominium owner.  As a condo owner you do enjoy not having to maintain all of these outdoor areas yourself – you don't have to clean the pool, weed the gardens, cut the grass, etc. You can just lock your door and walk away.
Those buyers who would prefer to own all of their amenities and maintain their own lawn and garden may be better off looking at single home ownership options instead of a condominium.
One thing to be aware of when living in a condominium setting is the political reality of an owners' association – condominiums are communities within themselves. Decisions may be made in monthly meetings which will cost individual owners more money, but not necessarily deliver equal benefits for all.  It can be nearly impossible to avoid being affected by at least one condo board decision, so active participation in meetings and discussions may be more compulsory than you might expect. Condominium living may be more advantageous financially than apartment rentals, but it does require more active participation in community events.
What are the advantages of buying a condominium?
Affordability: In Oakville and Mississauga there are condominiums for every price range – from affordable low-rise condo apartments to luxury condos with exceptional views of Lake Ontario. Keep in mind that although condominiums have a wide price range, the lower range caters to the budgets of first-time buyers and singles who may find single-family houses unaffordable.
Amenities: Many condo properties offer use of a wide range of amenities such as swimming pools, fitness centres, tennis courts, saunas, hobby rooms and other facilities that would be far too expensive to have all within a single-family home.
Equity: Unlike renting where your monthly rent payments go to your landlord, condo ownership allows owner to build and maintain equity like an other real estate purchase.
Security: One of the most populars aspects of  'condo living' is being able to just lock your door and leave.  Having lots of neighbours around makes it a lot easier to lock up and leave for a vacation or an extended period of time.  Also, condominium buildings often have security features like gatehouse security guards, security entrance systems, video surveillance systems and buzzers.  This additional security is particularly helpful if this is your second home, or if you are a snowbird and only there for part of the year.
Low Maintenance: No more backaches from mowing the lawn or shoveling snow. Living in a condominium means someone else takes care of the plumbing problems or roof maintenance for you.
Location: Location, location location – the same is true for condominiums.  In cities where land is at a premium, often builders have no where to left to build but up, enter the high rise condominium. For condo buyers wanting to be in the heart of it all, a condominium may be a good choice. In cities like Toronto condo living is defined by various districts or neighbourhoods. In Oakville, the premiere location for condominiums are waterfront condos along Lake Ontario. New condo projects like The Shores in Oakville, and One Eleven Forsythe by Daniels are setting the standard for luxury condominiums.  In Mississauga, the City Centre area is the core for condo living.  New landmark projects like Absolute Condos have redefined condo living in Mississauga.
Condominium Association: Every unit owner is a member of the condo association, which also has an elected board. The association serves to enforce bylaws, handles maintenance and repair issues, and deals with disputes with developers or between unit owners.
Condominium Community: Many condominiums have a built-in community feel with planned social events.
Looking to buy or sell a condominium in Oakville or Mississauga?
Ryan's condo guide offers second-to-none information and exposure to your condo for sale in Oakville, Mississauga & GTA.  Get Ryan's internet real estate marketing working for you & start packing today!
Email Ryan Chelak, Real Estate Broker
today and get a FREE, no obligation market valuation for your home or condo.