New Oakville Condos | New condos for sale in Oakville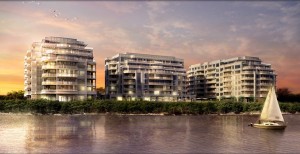 All you have to do is to take a drive around Oakville's neighbourhoods and you will see new condos being built. Signs for sales centres advertising new condos that will be built are scattered at most intersections in Oakville's core. Pretty much every neighbourhood in Oakville has at least one… Bronte, downtown Oakville, Joshua Creek, Glen Abbey, West Oak Trails, Olde Oakville.
Here's a list of new condominium developments coming soon to Oakville:
Balmoral Condominiums - Glen Abbey West (pre-construction sales)
Belvedere Condos – Palermo Bronte North Oakville (pre-construction registration)
BluWater Condos - Bronte West coming 2013 (under construction)
The Chelsea Condominium – Downtown Oakville (pre-construction sales)
Edgemere Estate Condominiums - Old Oakville East (pre-construction sales)
Emporium Condos - Joshua Creek north (under construction)
OpArt Lofts - Kerr Village coming 2014 (in pre-registration sales)
Palladio Square – Palermo, Bronte North Oakville (pre-construction registration)
Princeton Manor - Kerr Village (under construction)
Rain Condos - Kerr Village coming 2014 (under construction)
The Randall Residences – Downtown Oakville (pre-construction sales)
The Renaissance Condos – Oak Park | Uptown Core (pre-construction sales)
The Shores Condos - Bronte Harbour (under construction, occupancy Spring 2012)
Watermark Condominiums -Downtown Oakville coming to Oakville Harbour. (pre-construction registration)
West Harbour Condos – Downtown Oakville West Harbour Lakeshore (pre-construction registration)
Windermere Manor Condos - Downtown Oakville occupancy Fall 2012 (under construction)
Wyndham Place Condos - Old Oakville (under construction)
I do alot of work for clients looking to buy a new or pre-construction condo for personal use as well as for an investment. Why work with a Realtor when buying a new condo…? Let me ask you…
Do you think the builder is looking out for your best interests when you walk into their sales office alone??
Um, NO!  They're looking out for their best interest. Period. You're there to get their project sold through so they can start construction.  Have you ever tried to negotiate a pre construction deal? Most builders / developers don't know what the work negotiate means when it comes to pre-sales.
My job is to represent you and your best interests. I'm here to help you see the potential that's there on paper, find the right layout or condo project for your needs, weed through all the agreements and paperwork and help you understand all of your obligations both financial and legal.  Because of my experience and relationships with the builders, I'm often able to get you information on new condo projects before most other real estate brokers and well in advance of the general public – this means you save time & money $$$$ and lots of it!
Are you thinking of buying a new condo in Oakville, but not sure where to start? Well, hopefully this new condo guide for Oakville has helped give you some information to start your search. Please email me or call me at 416-254-8468 to discuss your new condo search .
---
All Oakville Condo Real Estate statistics and information on iBlogOakville.com is provided for general information purposes only. All data and figures should be verified prior to entering into any legal agreement. Ryan Chelak and Town-City Realty Limited are not affiliated with the builder/developer. Not intended to solicit properties listed for sale or buyers currently under contract with a real estate broker.