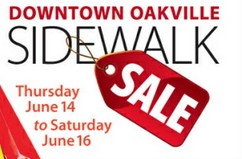 Downtown Oakville will be hosting the 39th Annual Downtown Oakville Sidewalk Sale this Thursday June 14th thru to Saturday, June 16th, 2012. 
Why not treat yourself to a beautiful day in downtown Oakville with friends & family, where you will enjoy six blocks of fantastic shopping!?  Visit Downtown Oakville for this three-day shopping extravaganza that brings Oakville's downtown to life as retailers head to the street offering you the very best buys of the season. After shopping, be sure to extend your visit by sampling some of the tasty fare in one of downtown Oakville's bistros, cafes & restaurants – some of the finest dining in the Greater Toronto Area!
Remember Downtown Oakville offers FREE PARKING every Sunday & Weekdays after 6:00PM.
For full information on Downtown Oakville's Annual Sidewalk Sale visit OakvilleDowntown.com