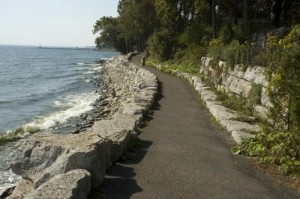 The Town of Oakville now owns a 'big chunk' (5,404 square metres) of prime waterfront land and trails following the final site plan approval for Edgemere Estates in southeast Oakville. When completed, the publically accessible waterfront and trails will run south along Maple Grove Drive from Lakeshore Road to the waterfront, along the shore of Lake Ontario and then north connecting back to Lakeshore Road by way of a trail through Wedgewood Creek.
"Council and I are proud of the agreement reached between the town and Edgemere Estates," Oakville Mayor Rob Burton said. "Creating public access to our waterfront and expanding our trail systems meets our goal of creating a sustainable community, and ensures future generations can enjoy this beautiful area."
As part of the settlement agreement, Edgemere Estate Limited dedicated a 15 metre wide linear strip of waterfront property together with connecting pathways. A public park and trail system will be constructed and paid for by the builder.
Edgemere Estate Limited will construct 10 detached, 2.5 storey elegant residential condominium residences, each containing three condo units at 1502 Lakeshore Road East. Development of the waterfront access and trails will be phased-in as the new homes are constructed. In addition, a number of heritage buildings and unique landscape elements on the Edgemere property will be preserved and maintained by Edgemere Estates Limited.
For more information  on the luxury condominium residences at Edgemere Estate click here.
For the full release on this Oakville waterfront news, click here.