Halton Compost Give Away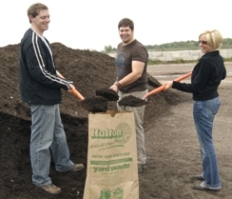 Each year during the Compost Give Away, Halton Region offers compost to residents of Oakville, Burlington & Milton free of charge. Residents can take up to the equivalent of 7 garbage bags of compost per household.
When:  Monday, May 7 – Saturday, May 12, 2012
Hours:  8:00 a.m. – 4:30 p.m.
Where:  Halton Waste Management Site - 5400 Regional Road 25, Milton
What should I bring?
Your own containers such as:
garbage bags
yard waste bags
reusable containers
pick-up bed
trailer
A shovel – residents are responsible for shoveling and bagging their own compost.
How do I use this compost in my garden?
Compost must be mixed together with topsoil or another gardening fill. For best growing results, a 60/40 split (60% topsoil and 40% compost) is recommended.
Where does this free compost come from?
The leaf and yard waste collected through the Region's yard waste collection program is taken to the Halton Waste Management Site and turned into high quality compost. A portion of that is offered back to Halton's residents.  The compost at the Compost Give Away is not from the Region's GreenCart program.
Food Drive:  During the Compost Give Away, Halton Region coordinates a food drive to support 10 food banks within the community. Residents are encouraged to make a donation of non-perishable food items or cash. Your donations make a difference!
During last year's compost give away event 5,000 residents came to the Halton Waste Management Site and picked up approximately 2,000 tonnes of compost.  Residents donated 7,000 kilograms of food and a record $12,172 was donated to local food banks as part of Compost Give Away.
Source: Halton.ca website