1. Indoor Playgrounds for kids in Oakville.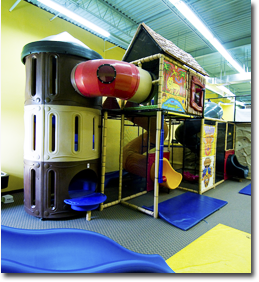 ** Update – April, 2013: Thank you to everyone that has visited and commented on this post. I never thought it would end up being one of my most popular ever, but it is! I've updated this page as a number of indoor play places have closed or changed since the original posting. Please keep your tips, thoughts and finds coming – us parents need all the help we can get! Cheers,  Ryan**
It's a rainy, spring day in Oakville today. What better way to kick of our 101 Things to do in Oakville than with a perfect rainy day activity in Oakville – Indoor Playgrounds for the kiddies.
For Kids:
Pretty well all indoor playgrounds or play centres have very cool, colourful climbing structures with slides, tunnels, tubes and look outs. Some even have more than one or integrated obstacles courses. For toddlers or crawling infants there are separate areas with cushy padded play mats and age appropriate toys. Many indoor playgrounds try to cater to the older kids with rock climbing walls/areas, air hockey tables and video game systems.
Whatever their age, indoor playgrounds in Oakville are a great place for children to burn off some steam, have a birthday party, socialize and play with other kids.
For Parents:
It's not all about the kids anymore – No longer do parents have to stand for hours or sit on uncomfortable benches and watch their kids play.
Indoor playgrounds are realizing that parents are more likely to keep bringing their kids back if there are amenities for them too. Many of Oakville's play centres have parent's lounges with comfy couches and eating areas for parents to socialize while their kids play. Some of the more progressive play centres offer free wireless internet access (wi-fi), flat screen TVs, fresh coffee and healthy snacks.
Here's a list of Oakville's indoor playgrounds:
Busy Bodies Indoor Playground – 245 Wyecroft Rd, Oakville  |   905.337.8535
Little Rascals Place - 1027 SpeersRoad, Oakville | 905.337.0892
The Little Gym – 2172 Wyecroft Road Unit 23, Oakville | 905.815.8151
Funtastic Kids Indoor Playground – 380 Dundas St E, Oakville  |  905.257.2111
KidsSportsPlex – 212 Wyecroft Road Units 21 & 22, Oakville | 905.844.5437
Kids Time Family Fun Centre – 3075 Ridgeway Drive, Mississauga | 905-820.2525
Speckles Art Studio – 461 North Service Road West #11b | 905.825.9994
Which are your favorite indoor playgrounds or play centres in Oakville? If we missed it, add it by  commenting on this post.